After completion of their Higher Secondary or Graduation, the students are admitted in this course. The duration of the course is one year i.e. from June to May. This training helps our students for finding respectable jobs after they pass out from this institute. This Department has trained more than 500 students.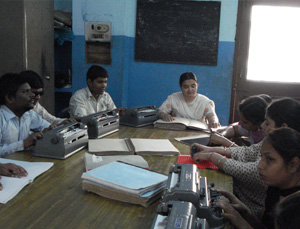 English and Hindi Braille Shorthand Training Courses:
After completion of Senior Secondary Education, the students are admitted in the Braille shorthand training courses in English and Hindi. This is one year diploma course. In these courses the students are taught Braille shorthand and Typewriting. Twenty visually disabled students are admitted in the English Stenography and twenty students are admitted in the Hindi Stenography training courses every year. Few of our blind students are working as Braille Teachers in Govt. Blind Schools and also in the nationalized banks as Stenographers and Typist. In these departments Braille script is also taught to the newly blind students. This department has trained more than 250 blind students.
Vocational Training courses in Tailoring, weaving, canning and recanning, envelop, file, ink, chalk and candle making In these vocational training courses, the students who have no basic qualifications are admitted in these courses. These are one-year job oriented courses to enable the blind/disabled students to avail open employment. After completion of their courses, they were employed in public and private sectors and open industries. This department has trained more than 250 students.
OTHER MAJOR ACTIVITIES:
Computerized Braille Press:
Computerized Braille books are provided to all students from K.G. to Plus Two and also to those who are studying in colleges/Universities in English, Hindi and Punjabi. Several educated blind students are directly and indirectly benefited through this unit.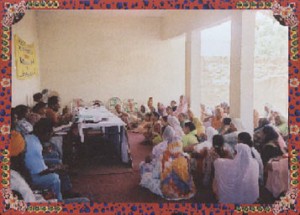 Community Based Rehabilitation Programme:
Apart from educating and rehabilitating the visually impaired children, this institute also works to create awareness amongst the general public particularly those living in rural and remote villages of Ludhiana District about the causes of blindness, measures to check its spread and prevention. Our CBR team is working very enthusiastically to locate, identify and provide counseling services followed by their rehabilitation and resettlement. In addition, eye care services, early detection and prevention methods are also carried out. This institute also conducts Awareness Programmes for the rural women in the rural areas and remote villages of Ludhiana District in collaboration with Central Social Welfare Board and Punjab State Social Welfare Board.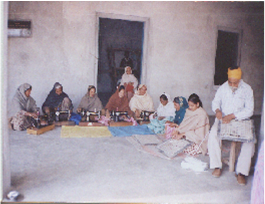 Multipurpose Mini Workshops for the blind and disabled in the rural areas:
We have four Multipurpose Mini Workshops for Persons with Disabilities in the rural areas each to meet the needs of the disabled people in ten villages. Each Multipurpose Mini Workshop provides vocational training to 25 persons with disabilities in the rural areas. Keeping in view of the rural environment and availability of raw materials including marketing, possibilities, the job oriented training programmes to these disabled clients are also provided. This department has trained more than 1500 disabled people in the rural areas of Ludhiana district.
Resettlement cum Placement of the Students:
This Department of Resettlement cum Placement fulfills the goal of holistic Rehabilitation Programme and achieves the most important goal/objectives of resettling the clients through self-employment programmes and placing them in the Governmental and non-Governmental agencies including the public/private sectors and open industries. This institute has found open employment to more than 500 trainees. These clients are financially assisted in the beginning by this institute supported by the CBM till they become independent and self-supporting.
Micro Credit Self-Employment Programme:
This is indeed an excellent program and during the reporting period, we have resettled more than 500 clients in the rural areas and remote villages of Ludhiana District. This venture has brought a good spirit of becoming independent and regaining their earning power.
Sheltered Workshop for the Blind/Disabled women:
This Sheltered Workshop for the blind and disabled women is a modern one in this part of India and 20 blind and disabled women who are deserted are enjoying the privilege of becoming independent and self-supporting.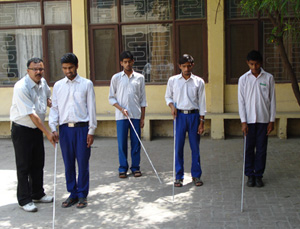 Orientation and Mobility Training:
One of the most important objectives of our holistic Rehabilitation Programme is to provide training in Mobility and Orientation to begin with the newly blind clients. The blind students have mainly posture and gait problems. To over come these problems, the students need physical exercise and mobility training. This institute is also providing such type of services to the blind clients living in the rural areas and remote villages. Many blind and low vision persons have been benefited from this department.

Low Vision Unit:
This low vision unit provides low vision aids to children and adults with low vision. Many children and adults with low vision are the beneficiaries.
Physiotherapy Department:
Considering the important need of the patients with loco motor disabilities, this Physiotherapy department is established in a full-fledged scale with all sophisticated and electronic equipments and locomotors disabled inmates are benefited.
Health Care Facility/Medical Aids :
This institute is very particular about the health care facilities for the students. A Medical Officer visits the institute every Thursday to attend to the minor ailments of the students. Free medicines are provided to the students.
Co-curricular Activities:
Our students take active part in the co-curricular activities like Annual Cultural Functions celebrated in the Institute and musical competitions, paper-reading competitions, singing competitions organized by other institutions/organizations at the state level. We are proud that our students always win prizes in these competitions.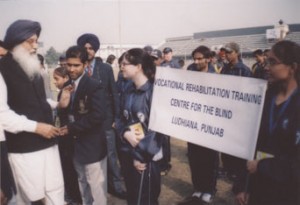 Sports and Games:
This Institution in collaboration with Punjab Sports Association for the Blind had organized National Games for the blind in the month of November 2008. Our students always come up with flying colours in any sports and athletic meet. This year they bagged seven prizes in the All India National Sports Meet conducted by the Indian Blind Sports Association, New Delhi in collaboration with VRTC at Guru Nanak Stadium, Ludhiana which was inaugurated by the Chief Minister of Punjab Sh.Parkash Singh Badal.